Cosmetic & Facial Rejuvenation Acupuncture
Your internal state of health is reflected in your facial appearance. Facial Rejuvenation or Cosmetic Acupuncture combines a standard acupuncture session with a facial treatment. Body points are needled to address health issues, reduce stress, and promote overall well-being. When you feel good on the inside, it naturally manifests on the outside.
Throughout the course of treatments, you can expect not only a more radiant appearance but also a sense of balance and happiness within yourself.
When you feel in control of your body, mind, and spirit, you can address other aspects of your life. This may involve exercise, lifestyle changes, quitting smoking, or weight loss. Achieving balance and feeling good about yourself opens up opportunities for self-improvement, and you'll be surprised by the positive impact it has on your self-image.
Cosmetic Facial Acupuncture goes beyond external appearances and how others perceive us. It delves into our internal well-being and how those inner feelings are expressed on our faces.
It is unrealistic to expect our faces to radiate natural beauty and vitality if we are not genuinely happy and content on the inside.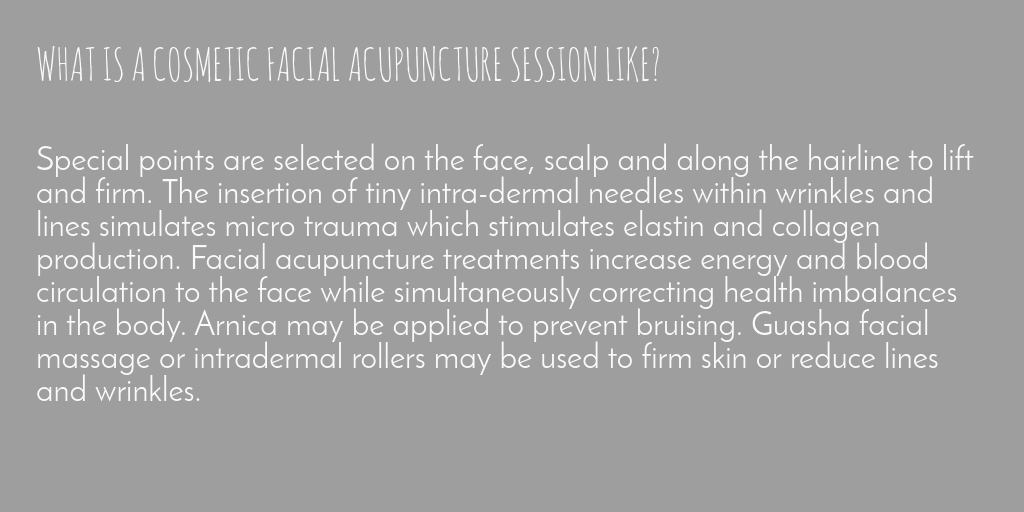 Course of Treatment

The recommended course of treatment for achieving the longest-lasting and most significant effects consists of 10 initial weekly or biweekly sessions. During the first visit, a detailed intake will be conducted, followed by a treatment session that lasts approximately 90 minutes. You will notice some effects after the first treatment, and the weekly sessions will help solidify and enhance these effects over the treatment period. If you do not experience any noticeable effects, it may indicate that Cosmetic Acupuncture may not be suitable for you. In such cases, we can discuss this further in detail.
The most noticeable and lasting effects of the treatment typically occur around the seventh session, although individual responses vary depending on pre-existing conditions and lifestyle.
After completing the initial course of treatment, maintenance sessions can prolong the results for three to five years. Similar to hair maintenance or nail care, maintaining a regular treatment schedule is crucial for preserving the results and slowing down the visible effects of aging. Cosmetic Acupuncture is one of the few non-invasive and effective methods for addressing the visible signs of aging, and routine treatment is essential to sustain the results.
Cosmetic Acupuncture can provide the following benefits:
Reduction or erasure of lines and wrinkles
Promotion of collagen production
Increased skin elasticity
Reduction of under-eye puffiness or bags
Improved complexion
Clearing of acne
Evening of skin tone
Tightening of pores
Brightening of eyes
Facial lifting, including eyelids and jowls
Reduction of laughter lines around the eyes
Enhancement of overall well-being