Did you know that often, the pain you feel in one part of your body is the result of a restriction in another part of the body?
This could be physical – like knots in your shoulders and arms causing pain or discomfort in your wrists and hands. Or it could be energetic like a stagnation or lack of flow of blood and Qi.
Mourne Yoga and Wright Acupuncture are teaming up for a day of Acupressure, myofascial release and yoga where we'll look at how restrictions in the upper body can affect you, while providing practical ways to help you start addressing them.
The workshop is held from 10am to 4pm on Sunday 5th April at the idyllic and scenic Mourne Yoga Studio near the Mournes and Castlewellan Forest Park.

The day starts with a morning session of Acupressure where Paul will introduce some theory, history and benefits of Acupuncture and Acupressure. He'll then show you a series of Acupressure points around the body and how to use them to help promote and balance energy, reduce fatigue and reduce pain in the body.
Enjoy a tasty homecooked lunch at Annsborough House before an afternoon workshop where Lorna will guide you through a combination of myofascial release techniques with therapy balls, and yoga to address trigger points and areas of stiffness relating to pain and reduced mobility in the hands, lower arms and shoulders.
Even better, the practices are simple enough to carry on doing at home for ongoing benefits!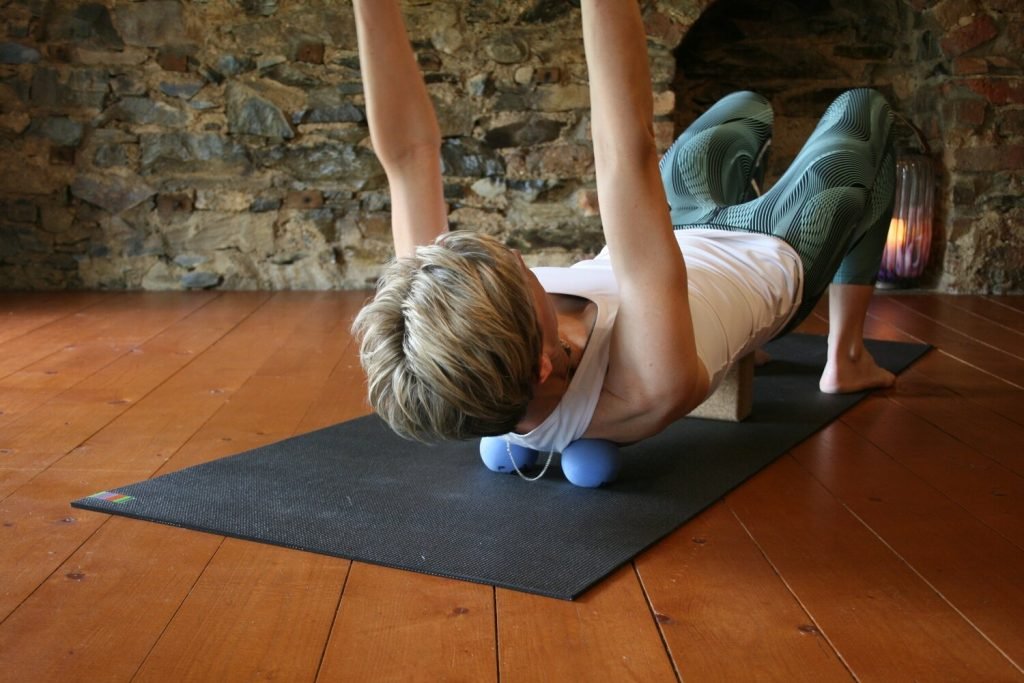 We'll start with some breath-work to get used to breathing techniques we can combine both with the practice.
This is followed by ball rolling on a particular area, such as the upper back or shoulders, and a series of yoga poses to then stretch the muscles and mobilise the joints in that area.
We then move to a related part of the body to roll out the tissue before releasing the area with a little more yoga.
The session ends with a restorative final relaxation practice so you can float out of the room.
Whats Included
•Teaching and Training from Lorna Nelson British Wheel of Yoga qualified teacher who typically teaches an alignment-based style of Hatha Yoga and Paul Wright,a licenced Acupuncturist with over 10 years experience providing holistic treatments and lifestyle advice to clients
•Guided Acupressure and Therapy Ball Release practice so that you will be confident to use these points for self help in the future
•Take Away booklet for home practice
•Tea, Coffee and tasty, nourishing Veggie Lunch – please let us know if you have any dietary requirements
We would encourage you to wear loose and comfortable clothing as you may need to roll up trousers to your knees and jumpers to your elbows.
What previous Attendees Say
After holding similar courses last year we received some testimonials:
The workshop was proactive with lots of practical applications for acupressure. I enjoyed it very much and Paul is very helpful.

Well planned day with lots to take away about well being and self care.

The content was presented at just the right level. Easily understandable, interesting and fun.

Cost and How to Book:
£65 total for the workshop payable in full via cash or bank transfer to secure your booking.
Contact Lorna on 07966 028249
mourneyogainfo@gmail.com
or Paul on 079171 88938
paul@wrightacupuncture.co.uk